At Unisun, we undertake custom web development for each project we service with your current needs as well as your future business plans in mind. By choosing to build your website with us, you are also choosing a site built on a foundation of scalable, usable and adaptable technology.
A logo is a graphic mark, emblem, or symbol commonly used by commercial enterprises, organizations and even individuals to aid and promote instant public recognition. Logos are either purely graphic (symbols/icons) or are composed of the name of the organization (a logotype or wordmark).
The logo (ideogram) is the image embodying an organization. Because logos are meant to represent companies' brands or corporate identities and foster their immediate customer recognition, it is counterproductive to frequently redesign logos.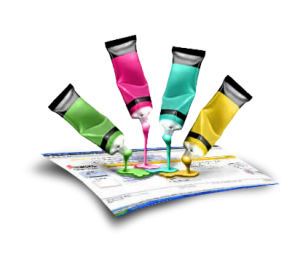 A brochure is an informative paper document (often also used for advertising), that can be folded into a flyer, pamphlet or leaflet. Brochures are advertising pieces mainly used to introduce a company or organization and inform about products and/or services to a target audience.
Brochures are distributed by mail, handed out personally or placed in brochure racks. They may be considered as grey literature. They are usually present near tourist attractions.
We write website content or web content our writers specialize in providing relevant content for websites. Every website has a specific target audience and requires a different type and level of content. Content should contain words (key words) that attract and retain users on a website. Content written specifically for a website should concentrate on a specific topic. It should also be easy to read, offering the information in easy to understand clusters or laid out in bullet points.